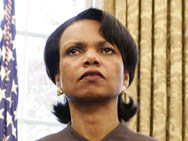 National Security Adviser Condoleezza Rice
will be nominated to replace Colin Powell as secretary of state.
Do you think we'll get to see her whup Kofi Annan? If anybody can do it, she's the one.
I guess the NFL will have to wait.
UPDATE:
Lileks
says he wants to see her go to Saudi Arabia, where the first words out of her mouth will be, "I'll drive." Yeah. Like that.